In partnership with Style.com. Fashion editors from Vogue and Style.com curate a look that feels chic as well as exciting and new for spring/summer '17.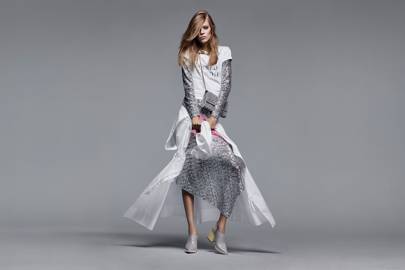 "Don't be boring and dress cute wherever you go. The only rule is not to blend in," is an oft-spotted quote by Paris Hilton – the symbol of Noughties navel-gazing has been enjoying a renaissance of late among the Tumblr crowd with her slyly witty observations.
It's a sentiment that designers struggle with today, as they try to navigate a digital landscape which allows for any photo or reference to be easily accessed with the swipe of a thumb and catwalk pieces to be reproduced across the world even before the clothes have landed in-store.
The most continuously innovative designers, such as Christopher Kane and Paco Rabanne creative director Julien Dossena, counteract internet-fuelled jadedness with clever ways to jar the brain and titillate the eye (witness Kane's necklace featuring a beetle set in resin).
More about: http://www.vogue.co.uk/gallery/daytime-drama-with-styledotcom